I've been always interested in home audio equipment, tinkering with sound since high school, and pursuing the best possible quality while staying on budget. Usually, I just used whatever we had at home.
My first home theatre is a 5.1 Sven audio system combined with an external TV tuner and SoundBlaster audio card. The amount of time I spent connecting the wires, and playing with the drivers and DVD player apps was tremendous. I never could get 5.1 sound in games to work properly and I think eventually one of the smallest speakers died. I ended up using the subwoofer and 2 speakers because it was the most reliable setup. I remember playing Half-Life 2 and the motorboat level — the strong soundtrack made these memories special. The sounds of the Citadel and the energy gun are still alive in my memory, somewhere at that time I realised that at some moments I enjoy virtual worlds more than real life.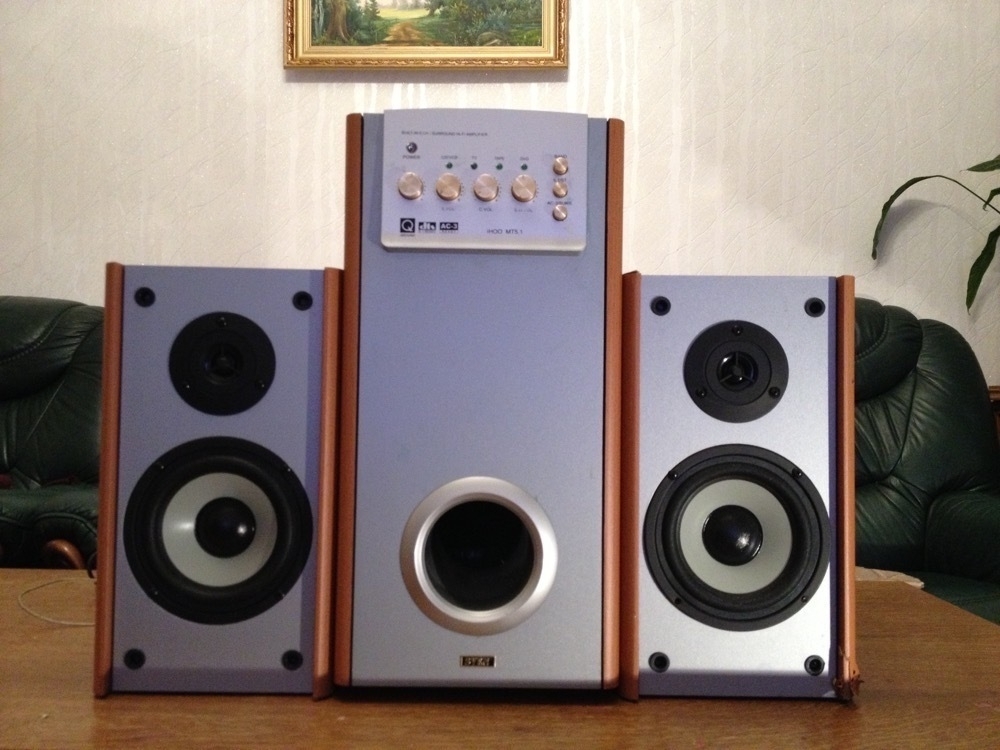 My second system was from Technics. It didn't have a subwoofer, but I had a stock receiver/amp with manual input switching. They sounded much cleaner and sharper than my old system, although the bass was not so powerful. Because these are traditional speakers they blast sound from one direction, and to enjoy them properly you have to be in front of them. I also needed to switch input manually whenever going from Mac to TV.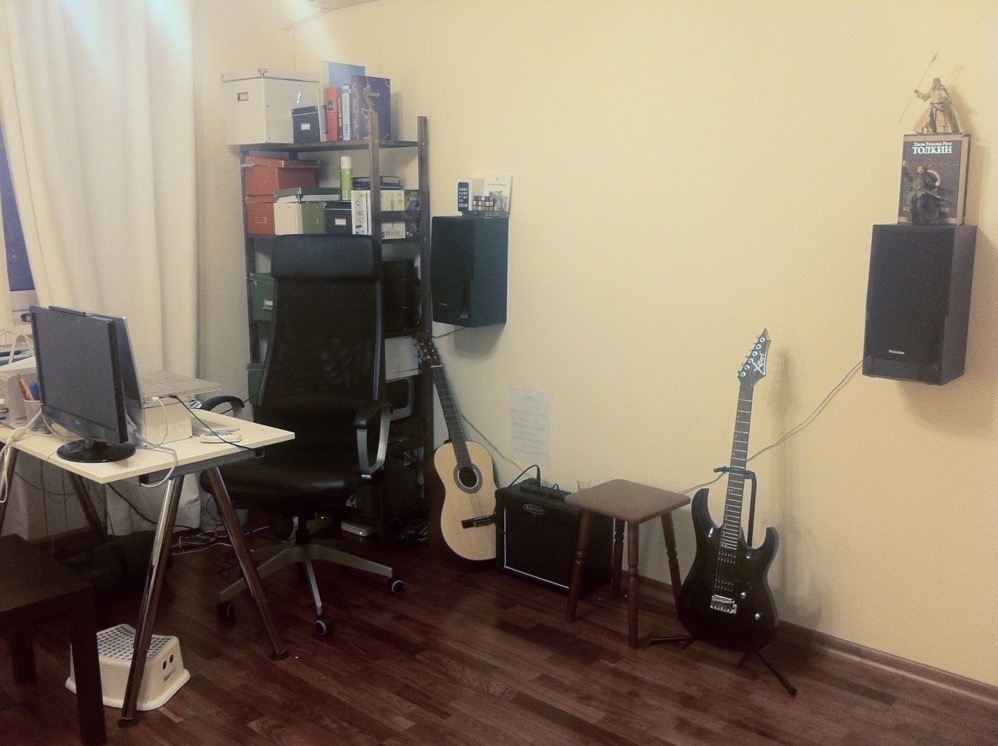 I tried various setups with used speakers when we moved to the UK. Nothing satisfied me. Kids kept messing with the knobs, putting toys into the subwoofer and so on. When I heard how Marco Arment praised OG HomePod privacy and quality, I was intrigued, the OG model was discontinued likely because of hardware failures. I was very happy to order the HomePod 2 and I think it's the best setup I had so far. If you like me and maintain a personal music library with songs not available on any streaming services, by signing up to iTunes Match (£21.99 per year) you can keep your library available to any of the HomePod speakers through Siri. AirPlay 2 works well and allows me to stream music to every room in my house with no issues or lag. I can control playback from any device in the same network, inclding, Apple Watch. A circular shape allows sound to fill the room, no matter where you are.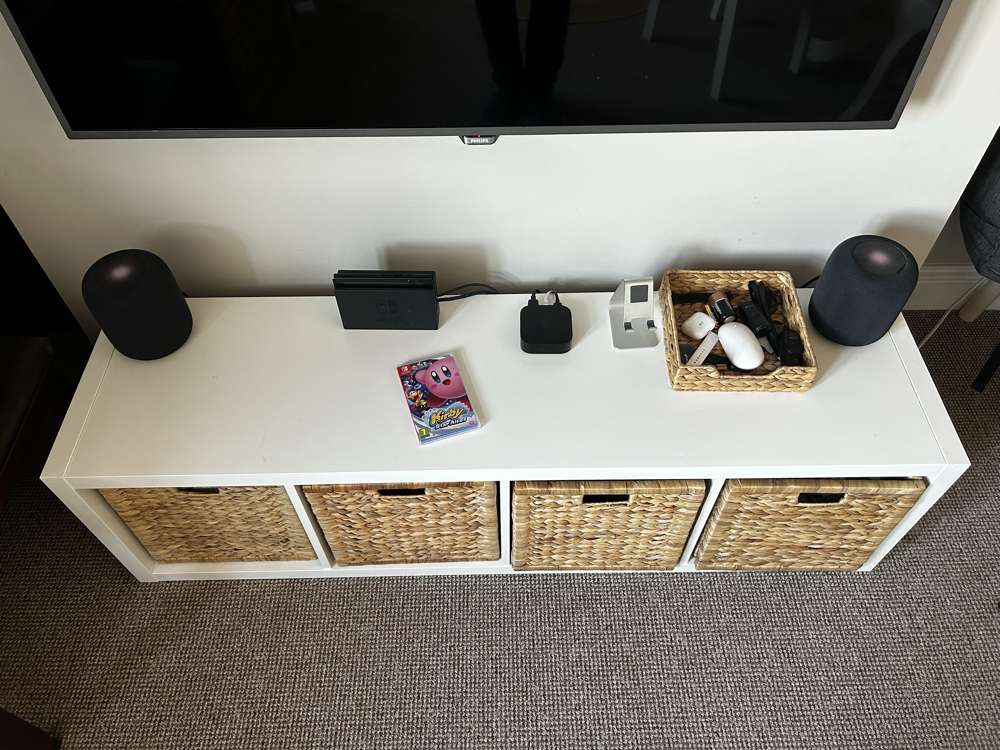 HomePod 2 in stereo pair (£598) working with Apple TV (£169) should be interesting for people who are not happy with the sound from their TV and want higher sound quality than what any soundbar can offer. HomePod has good stereo separation and stronger bass than soundbars and the quality of the speakers outperforms any smart speaker out there and is comparable or even better than Sonos. Achieving even higher quality and adding more speakers would increase the cost substantially. You would want to add a subwoofer, central channel and rear speakers. You most likely need a dedicated amplifier. AirPlay 2 amps cost more (Sonos UK) or much more (Sony) than 2 HomePods. Some amps work best after calibration and room measuring.
HomePod to home audio could become is what iPhone became to the professional cameras world. I believe most families don't have any connected speakers at all. It's a big opportunity for Apple. They always have been good with democratising technology and bringing to a mass market something which is used only by enthusiasts or professionals. iPhone eventually replaced DSLR cameras for most of us. HomePod is trying to achieve the same with home audio. More affordable, easier to handle and with surprisingly good sound. There are no audio wires, setup is quick, and with ARC, you can use it for your game consoles. HomePod is small and elegant and can match any interior design, they take up very little space. There's nothing quite like it. I don't believe that Apple cancelled the OG model because of poor sales, I think it was the hardware flaw which require more time to fix, Apple did the right thing by pulling the flawed model with an outdated chip.
And yet HomePod 2 is misunderstood by MKHD and other vloggers and even by Myke at Connected. To appreciate it you have to live with it, and I sincerely hope that by the word of mouth, it ends up in more homes than the flawed OG. Or at least there will be enough HomePod users for Apple to keep this product alive.