I replaced a pair of HomePod minis1 with the new full-size model today. Returning from school, my son joked that "HomePod is growing" and he noticed the fresh scent and smelled it. With no pun intended, I think HomePod has indeed grown and I am excited about the purchase, it's the right product for me. It's final peace to fulfilling my long-lasting dream of building a Hi-Fi system for the entire home and also solving many little annoyances I had.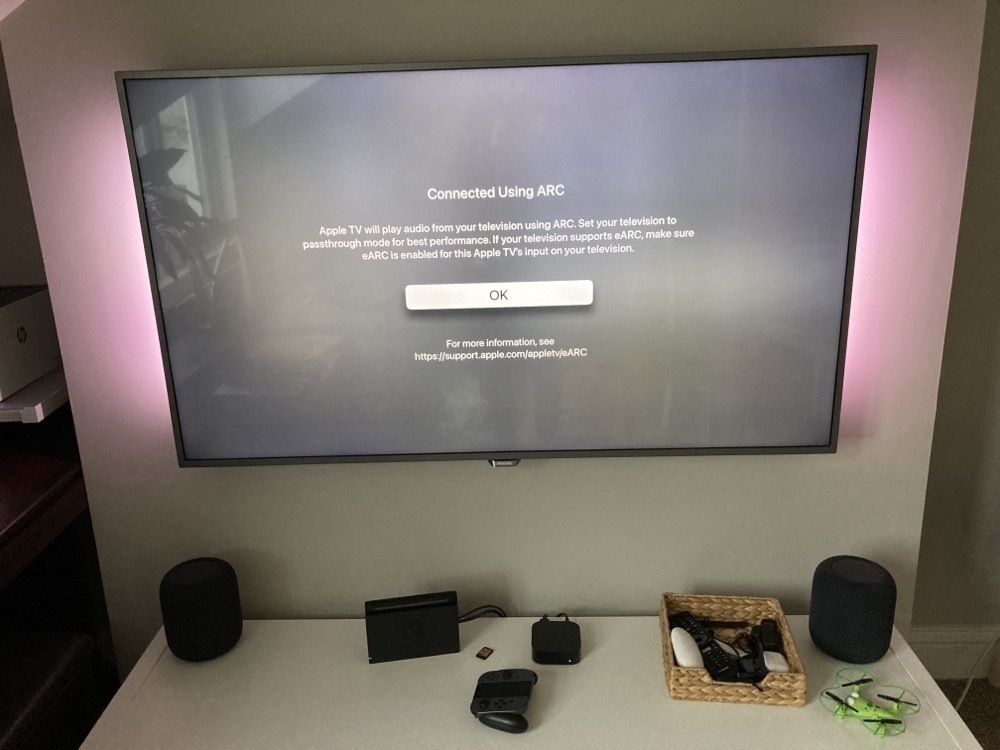 Music
The first song I played is Chemical Bond by Rezz & Deathpact. The amount of bass shocked me. I expected good bass, but knowing and experiencing are different. With volume just 30% I felt conscious about neighbours across the wall and below us. I hope that vibration reduction works and it doesn't make my neighbours uncomfortable. We going to use Reduce Loud Noises at night time, and if someone complains I might switch on Reduce Bass during the evenings in the Home app.
Movies
I tried one of my favourite movies, the bank robbery scene from Dark Knight. When the window shattered, I jumped in my seat even though I knew what was going to happen. Honestly, it sounds as good as being in the cinema. I watched some Dolby Atmos — Doctor Sleep and Avengers the End Game Part 2. I wasn't able to feel anything special about Dolby Atmos, possibly because my TV doesn't support eARC, only ARC. Still, I am very satisfied with the sound.
Other questions
Some of you asked questions, answering everything except about the Plex, which I don't use yet.
If you have an eARC-compatible TV and a console, is it a smooth experience?
My TV model is Philips 55PUS6401. Just yesterday I found that it supports ARC, I cycled to Apple Store and picked up the latest Apple TV model to replace my first generation 4K model. You need at least a second generation for ARC and eARC to work. I still was scared that it won't work as Philips doesn't mention ARC in the tech specs for my TV, I have found it through some other sites, which was strange. I had no problems activating it, it also works with my Nintendo Switch. I want to tell you more about the details.
I still don't believe it, but it worked. As soon as I turned on the new Apple TV the option was there in the menu, and it activated successfully. Because Apple TV remote does not allow to switch inputs I rely on HDMI-CEC. I needed to switch to the console. I have turned off Apple TV, which also turns off the TV screen. Then I pressed Home on my Pro controller and the TV did the switch. Now Apple TV is off, so how is ARC supposed to work? I had to put my ear to the HomePod, I couldn't believe that sound comes outside of it while Apple TV is off. It was a successful setup, and it works now. I will update the post and we will see how reliable it is in a long term.
One of the most annoying things about my TV is the Philips remote. Some of its buttons are lost, and the power buttons don't work at all. Every time I use it, I feel sad because the HUD resolution feels like it was designed during the pre-HD era, not even talking about 4K. And still, I had to use it for volume control when using Nintendo Switch. Well, not any more. 🎉
Nintendo's soundtrack is complex and listening to it from TV speakers was a poor experience. HomePod pair provides much more balanced and deep sound. I can't wait to continue playing Mario Odyssey, Burnout Paradise and Hotline Miami with high-fidelity sound. The latter soundtrack was so annoying with the TV speakers that I had to stop playing the game.
I replaced speakers, Apple TV box, and my router at once, all my devices were confused and everything wanted to be rebooted. After rebooting, the problems went away.
How big is your room in m2 and how loud do you put the sound to watch a series/movie?
Our living room is small, you almost can see the left and right walls in the picture. I think we going to watch it not louder than 40%. Because even 40% is pretty loud. What surprised me was that I can play audio on very low volume and still feel a massive difference to HomePod mini. I am very happy that I can enjoy this more rich sound without cranking up the volume.
How smooth is it to control with the Apple TV remote control?
Instead of pixelated volume control from my TV, I get the native tvOS volume bar. I have tried to AirPlay music from my Mac and then control the music with Apple TV remote, which also works as long as the TV is on. Then I turned off the TV and started playing Radio Caroline on the HomePod pair, trying the remote. The stop/play button doesn't do anything, but Mute and Volume up/down work.
Transition between AirPods to HomePod when you arrive home to podcasts apps.
My iPhone SE doesn't have a proximity chip and I have to rely on the AirPlay UI, which works fine but is not as convenient. I tried bringing my wife's iPhone up close to the HomePod and it transferred the sound almost instantly. Then I tried to do it while the TV was outputting sound from Nintendo Switch. HomePod started playing a podcast while still outputting sound from the TV. I also tried the same thing but when using AirPods and music stopped playing in AirPods and switched to the HomePod pair correctly
---
HomePod mini pair is now in the kitchen where I desperetly need better sound for podcasts and music during cooking. ↩︎