For 2023 I am changing my blogging/social media workflow with the main goal to simplify and focus. I quit Facebook and Instagram a long time ago, and this year I am leaving Twitter as well. I own a GitHub-hosted blog powered by Jekyll, but it has some limitations. I'm also paying for Micro.blog and don't use it as much as I could, and recently joined a separate Mastodon fediverse. Here's what I am doing for the new year.
Changing Micro.blog default address to micro.cocoaswitch.com
This is done first at the domain configuration panel, by setting the CNAME record. After that, at Micro.blog "Design" tab and set a new address there. This unlocks a badge with a comment: "Your microblog uses a custom domain name. That's the best way to own your writing.". I agree.
Stopping blogging at cocoaswitch.com
I like this blog and I know that people find it helpful. I want to preserve all the posts and explain to my readers that they should subscribe to micro.cocoaswitch.com going forward.
Redirecting my Mastodon to yurkevich@micro.cocoaswitch.com
I appreciate Micro.blog integration with Fediverse, I have followed everyone I followed on Mastodon using Micro.blog search. Now I have a username with my domain attached to it and a single chronological timeline to read and can use a single app on my iPhone to consume the only social media channel I have. I like the lack of retweets and emphasis on replies. It's a relief not to worry about how many people follow me, because Micro.blog doesn't show these statistics, my profile doesn't look like no one reads it and not discouraging visitors from subscribing.
Setting up cocoa.productions/blog
A place to write about apps I am working on, and only that. It would be professional and brief. The feed is crossposted to Micro.blog timeline, so you won't miss any of those posts.
Doubling down on Micro.blog
It's a relief to have a single blog to manage for both short and titled posts. I no longer need to decide between short and long posts, can start short posts and expand when needed. For the first time for my blog, people will be able to leave and read comments.
I also finally can blog from my phone and use MarsEdit on Mac. It saves time, especially when working with links and photos. In addition, I discovered 2 excellent Micro.blog apps: Icro and Gluon which do not require a subscription, fully native and have a respectful minimalistic design, I find it more attractive than Ivory, because Ivory uses floating UI elements in a name of "clean design" which I would like to avoid, if I can.
Micro.blog is amazing
Do you know any other companies in which your writing can be noticed and commented on by the CEO? In a couple of months of using Micro.blog, it happened to me. Micro.blog feels so personal and small in a good way, it's the only place I want to hang out.
With my old blog, I wrote long posts once a month on average. With this new strategy, I feel like writing every day. You can access all of my writing through the web, subscribe via RSS, and follow me at Mastodon and Micro.blog, of course.
Update (September 29th)
Goals
Inform RSS readers about the change
Reconfigure GitHub pages to link into archive.cocoaswitch.com
Use cocoaswitch.com as Micro.blog default address
Testing, report back
1
Current feed https://micro.cocoaswitch.com/feed.json, will be changed to just https://cocoaswitch.com/feed.json. AFAIK I can't keep duplicated feed, there's no settings in Micro.blog to allow this. I likely have zero feed readers anyway, that's an upside. 😀
2
Addded new CNAME (DNS at Hover):
HOSTNAME: archive
TARGET NAME: borisyurkevich.github.io
Changed CNAME:
From www borisyurkevich.github.io to www yurkevich.micro.blog.
On Github navigated to repository > Settings > Pages > Custom domain.
Changed from www.cocoaswitch.com to www.archive.cocoaswitch.com
Got reply from GitHub:
Custom domain "www.archive.cocoaswitch.com" saved.
cocoaswitch.com now gives 404.
www.archive.cocoaswitch.com doesn't work at all.
From GitHub GUI:
www.archive.cocoaswitch.com is improperly configured Domain's DNS record could not be retrieved. For more information, see documentation (InvalidDNSError).
I made a mistake! I used www.archive.cocoaswitch.com. Removing www fixed the issue.
GitHub:
Custom domain "archive.cocoaswitch.com" saved. DNS check successful ✅
http://archive.cocoaswitch.com now works, HTTPS takes time to update.
3
Opened Micro.blog > Design
Changed Domain name from micro.cocoaswitch.com to cocoaswitch.com.
Hit "Update Blog Settings"
Gor reply from Micro.blog
Your custom domain isn't pointed to Micro.blog yet. Configure your DNS first. DNS changes may take a while to propagate, so check back later.
Waitied…
Made a mistake by forgetting about A records.
Deleted all A records, added a single Micro.blog record, keeping the CNAME.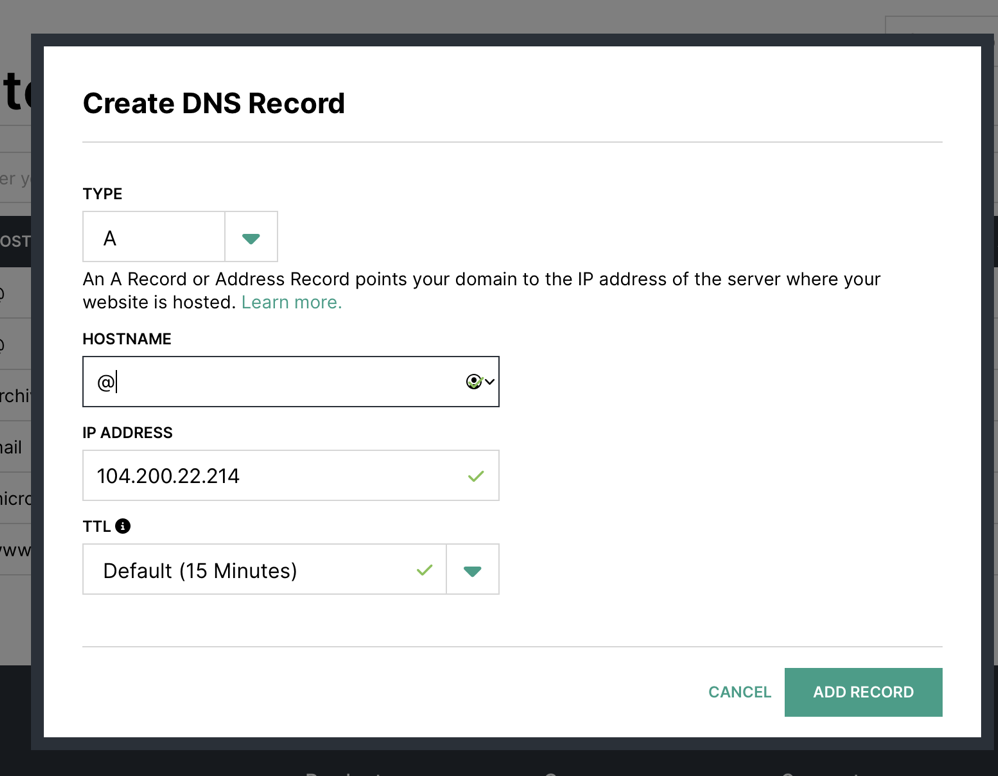 Hit "Update Blog Settings" on the design page. Still, didn't work. Then I saw this in the docs.
You can enter either "yourdomain.com " or "www.yourdomain.com" in the Design page settings in Micro.blog.
I have tried the option with WWW. This time it worked, saw a brief "Publishing…" UI. I recommend to use www when setting your custom domain on Micro.blog.
4
https://www.cocoaswitch.com works ✅
RSS feed https://www.cocoaswitch.com/feed.xml ✅
JSON feed https://www.cocoaswitch.com/feed.json ✅
Out of curiosity, clicking on https://micro.cocoaswitch.com/2022/12/27/new-blogging-strategy.html loads the page. It looks like the old links still work 🎉
Another unexpected good news, the old feeds will continue to work.
Issues with Mastodon.
Micro.blog still shows the old URL.

Attempted Reset.

Resetting… It will take a few minutes to finish resetting your Mastodon username. Try visiting this page again later.
This was completed successfully, then I set my username to @yurkevich@cocoaswitch.com..